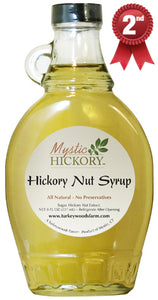 A Turkeywoods Farm world-original! Lighter and sweeter than our Shagbark Hickory syrup. We are this planet's only commercial producers of gourmet hickory nut syrup.
Flavors:
Unique nutty flavor derived from wonderful local hickory nuts.
Try it with:
Pancakes, waffles, corn bread, vanilla ice cream, butternut squash, oat meal, cinnamon-apple slices.