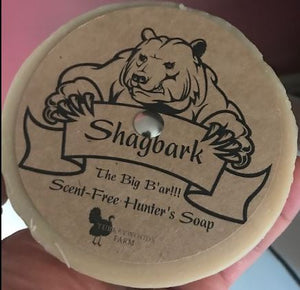 Large Scent Free Shagbark Sportsman's Bar
Alleviates muscle & joint pain
10 oz Round bar

Shagbark Facts:
 Rich in minerals including magnesium.
 Age old treatment for muscle pain and arthritis

Hickory bark is a rich plant source of magnesium(1), an essential mineral for healthy muscles. Magnesium deficiencies can cause muscle spasms and pain, and a daily infusion of magnesium ions can relieve sore muscles. This is especially important today as water softeners can reduce the minerals available in our water.
The Native American Potawatomi tribes knew the benefits of shagbark hickory bark. They drank shagbark tea and used boiled shagbark poultices to ease the pains of sore muscles and arthritis.
Turkeywoods Farm is the first to formulate natural shagbark hickory extract
into a natural cleansing soap. Many have found the soap helpful to soothe everyday aches and pains. Our soap blend also moisturizes dry skin.
Process

Our process is backed by 25 years of experience in organic and medicinal chemistry. We make our soap by hand in small batches, applying the same attention to quality and detail as we do into our syrup and other Turkeywoods Farm products. You will probably like the results.
Soap Ingredients
Shagbark is grown organically on our farm in Groton/Mystic, CT. The Shagbark extract is combined with olive, coconut, palm, and castor oils in a traditional hand-crafted saponification process. Olive oil softens and moisturizes the skin. Coconut oil produces a cleansing soap. Palm oil helps harden the bar, so that it lasts longer. Castor oil produces good lather. Our shagbark soap is available with or without Lavender essential oil scent. Our scent free Shagbark Soap is favored by hunters as well as by those who just don't want a scented soap.
(1) D. R. Phillips et al., Biomass 1989, 19, 169-187